+3
arbon
oncesubtle
CheenaGringo
7 posters
While Equipales are a product that we have decided not to import, we did a fair amount of research on this product before making this decision. Thought that it might be helpful to those looking for this style of furniture to furnish their home to provide some information on sourcing etc.
As anybody with any kind of Mexico experience knows, all Equipale is not created equal! Through the years, I have read numerous posts where interested parties tend to limit themselves by only looking in the Lake Chapala area. IMO and from what we have personally seen, most Equipale in the area tends to be overpriced and of a lesser quality. Some of this tendency to limit shopping to the Lake area may be that people figure it is easier to get home? From our experience, most shops in other areas either have the ability to deliver or make arrangements to have product delivered at no great cost. The three factors that we look at when examining Equipale are: quality of covering (leather or fabric), has the wood been treated for bugs and the finish work.
Again, in our opinion, the "gold standard" for Equipale has been the product that the Adobe in Tlaquepaque produces for themselves and for export NOB. By no means is this product cheap but the construction and finish is hands down some of the finest we have found. You can see the variety on their website:
http://www.adobemarthafigueroa.com.mx/productosequipalartesaniamexico.html
Two of the things that stand out are some of their unique designs and the way they wrap the base wood with leather for a more finished look:
[img]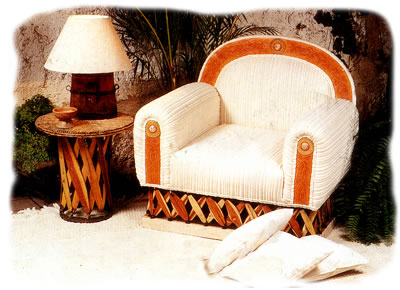 [/img]
[img]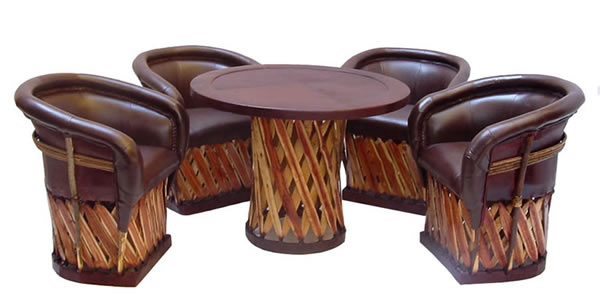 [/img]
Another option is making a short "road trip" to the town of Zacoalco de Torres:
http://maps.google.com/maps?hl=&q=zacoalco+de+torres+jalisco&rlz=1B3GGGL_enUS349US349&um=1&ie=UTF-8&hq=&hnear=0x8425f508a18d911d:0xb59fae73a024802e,Zacoalco+de+Torres,+Jalisco,+Mexico&gl=us&ei=MPuuTsHWBqieiAKC1dSmCw&sa=X&oi=geocode_result&ct=title&resnum=2&ved=0CCwQ8gEwAQ
This town specializes in Equipale and has for generations:
http://www.mexconnect.com/articles/450-mexican-equipales-seated-through-the-ages-zacoalco-de-torres
http://www.woodwork-magazine.com/index.php/archives/137
A third option is a trip to Tonala where Equipale suppliers are scattered throughout the town. In the last ten years, we have noticed an improvement in styles available and the quality of the finish work. Two suppliers that happen to be quite easy to find on Ave. Tonala by taking a left at the main traffic light right as you arrive in Tonala are:
http://www.equipalestonala.com/cats/pag.php
http://www.exportequipales.com/

CheenaGringo

Share Holder





Posts

: 6692


Join date

: 2010-04-17



Nice report Cheena, thanks. Love them equipales!

oncesubtle

Moderator





Posts

: 2043


Join date

: 2010-04-07


Humor

: After 2nd cup of coffee




arbon

Share Holder





Posts

: 899


Join date

: 2011-07-16


Age

: 82


Humor

: Humour



I agree, nice report CG. There is only one place to buy equipale furniture in Bucerias...and they didn't use stainless steel staples...DUH! On the coast, the staples all rusted out within a year so I used brass tacks to hold them together. As you say, some are a great price but there's no value there. On a side note, gin takes the mold off leather nicely, followed by leather conditioner...not that the leather would get moldy lakeside.

I am really appreciating your knowledge in this section CG...keep up the great work.

ferret

Share Holder





Posts

: 9068


Join date

: 2010-05-23



Yes, thanks cheena for the info. I have experienced really high quality and comfortable equipales, and also furniture of a lower quality that you literally can't sit on. It is hard, and you have to lean forward. Not even usable. One of the homes I rented last year had the cheap furniture in the sala - a couch, loveseat, and chair. I literally didn't sit down in the living room -ever. The year previous, my rental had a high quality dining set, and I could sit in it all day. A big difference. If it is made well it is comfortable and low maintenance. Thanks for the info on where to buy.

57Chevy

Share Holder





Posts

: 238


Join date

: 2011-01-07



Yes, great info Neil. could you provide a little more info about the two places in Tonala? Left side or right side of street after you make the left turn at the light? About how far towards the road?

Mainecoons

Share Holder





Posts

: 1950


Join date

: 2010-11-28


Age

: 77


Location

: Ajijic


Humor

: Mad Magazine




CheenaGringo

Share Holder





Posts

: 6692


Join date

: 2010-04-17



Thanks! We have to go over to Tonala to pick up some stuff and will check it out. How would you rate the Tonala places versus the ones in Zacoalco? That's just a short run from here too.

Mainecoons

Share Holder





Posts

: 1950


Join date

: 2010-11-28


Age

: 77


Location

: Ajijic


Humor

: Mad Magazine



Have never taken the time to go to Zacoalco since we haven't actually been in the market for Equipales. The ones at Export Equipales seemed to have improved a good deal over the years and are approaching the quality of the ones found at the Adobe in Tlaquepaque.

CheenaGringo

Share Holder





Posts

: 6692


Join date

: 2010-04-17



If you have a good even tile floor I have seen people add rollers to the
chairs. Makes the chairs more useful if you are having something built.

Z

Zedinmexico

Share Holder





Posts

: 5604


Join date

: 2011-10-28


Location

: On the hill in Ajijic


Humor

: Red Dwarf, Marx Brothers, SCTV



Similar topics
---
Permissions in this forum:
You
cannot
reply to topics in this forum