In a thread in another category, Mainecoons asked if I knew anyone in Tlaquepaque or Tonalá capable of building a bar for him after seeing a photo of a restaurant bar in a post.
Before going into suggestions and possible sources, I would like to pass on an observation that we have made through our years of shopping in Mexico. Many bars, restaurants and even hotels or B&B's often have unique decorations or furniture and we are always looking around for something of possible interest. Any number of times, it has been our experience that if one enters a casual conversation with the owner or manager while having a cocktail or a meal, and then drop a question about where something comes from, they will often go out of their way to find or provide an answer. Sourcing via word of mouth is a powerful tool in Mexico.
While there is a good possibility that there are woodworking shops hidden in the back streets of Tlaquepaque, I am not personally aware of any. I do have a couple of suggestions in Tonalá:
Muebles Rusticos de Mesquite
:
http://www.mueblesrusticosdemezquite.com/ini/cati-15.php
The above link takes you to the bar page on their website. It is my understanding that while they build primarily out of Mesquite, they will also build from pine and possibly other woods. We haven't visited their establishment but I have had some email communications with them and have been led to believe that they do custom work.
[img]

[/img]
[img]

[/img]
Replicas y Originales Ornelas
:
http://www.ornelas.com.mx/
Again, we haven't made it to this establishment but it is my understanding that they carry a mix of original(antique) and replicas they have built on the premises. It appears at least from their photos that they may do some impressive work. While the website doesn't provide a catalog, it appears from the photo which follows, that they have a large showroom:
[img]
[/img]
We have one other possible source but it is in Sayula. They manufacture exclusively from mesquite and parota woods. I don't have any actual photos of bars from them but will email them and ask what they might have done in the past. The slideshow which follows is some examples of buffets they have done and shows the quality of their work:
https://picasaweb.google.com/113004810728401553444/SAYULABUFFETS?authkey=Gv1sRgCJvR3r-N_42SrAE#slideshow/5649368856965937154

CheenaGringo

Share Holder





Posts

: 6692


Join date

: 2010-04-17



I just received front and rear photos of a brand new style of bar from a manufacturer in Michoacán. Their products are manufactured from resawn old timbers reclaimed from old haciendas and barns. The bar tops and door panels are recycled copper sheets from Santa Clara del Cobre. These are manufactured to order and can be custom sized. Pick up would be at their warehouse in Tonala.
[img]

[/img]
[img]

[/img]
They do have other styles but I need to locate them on my external hard drive before I can post them.

CheenaGringo

Share Holder





Posts

: 6692


Join date

: 2010-04-17



Wow, that looks like what we're looking for.

Do these guys have a website?



Mainecoons

Share Holder





Posts

: 1950


Join date

: 2010-11-28


Age

: 77


Location

: Ajijic


Humor

: Mad Magazine



Yes, they do have a website but access is restricted to their wholesale customers NOB through their customer name and issued password. I have photos on file of virtually every product that they manufacture except for the very newest products that they are currently just introducing (like the previously posted photo of a brand new model).
Since these products are primarily manufactured for the NOB market, they are build more to US furniture standards and the fit cannot be defined as "rustica". To get an idea of their range of products, here is a scan of an older catalog:
https://picasaweb.google.com/113004810728401553444/COPPERINSTINCTSCATALOG?authkey=Gv1sRgCNXbntCk56zO2gE#5549247674798165058
Here is an example of a liquor cabinet with a slide out mini bar:
[img]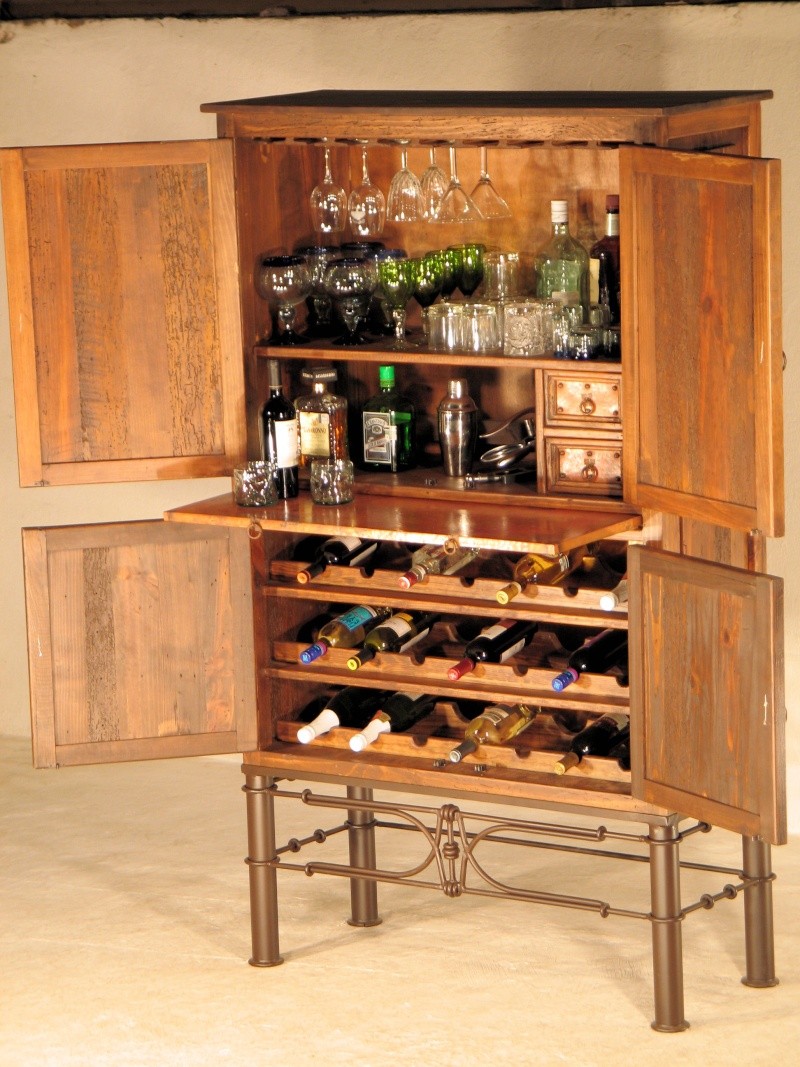 [/img]
While technically called a buffet, the following is set up for liquor bottle storage:
[img]
[/img]
[img]

[/img]
With some more digging through various files, I should be able to find some more bar examples. If not, I will scan some into PDF files and then post them in the net couple of days. If you look through the older catalog, you will note that they also offer bar stools.

CheenaGringo

Share Holder





Posts

: 6692


Join date

: 2010-04-17



I have requested the dimensions of this bar from the owner of the company but since he is traveling NOB, he doesn't have that info with him. He did say that it was quite large and probably weighed in the neighborhood of 800 pounds. As I stated before, like everything else they build, the bar can be custom sized. A personal opinion: if I had a place to put this bar where I could plumb the bar and have a copper sink and ice well, I would sure take a look at that option.

CheenaGringo

Share Holder





Posts

: 6692


Join date

: 2010-04-17



As can so often happen when emailing to a Mexican business, replies can be delayed. I had hoped that the manufacturer in Sayula would have responded by now but maybe Mananá? I have provided the contact info for the two shops in Tonalá. If someone sees some in the Copper Instincts line of interest, I would be more than happy to provide the direct contact info. Should you wish to see the quality of the product, we can recommend going to Quinta Don Jose in Tlauquepaque to view a number of pieces they have on display off the main lobby.

CheenaGringo

Share Holder





Posts

: 6692


Join date

: 2010-04-17



Thanks very much for all your help CG!

Mainecoons

Share Holder





Posts

: 1950


Join date

: 2010-11-28


Age

: 77


Location

: Ajijic


Humor

: Mad Magazine



Similar topics
---
Permissions in this forum:
You
cannot
reply to topics in this forum