Because of dental appointments in the area, we stumbled across a real surprise in Guadalajara. This store would compete well with specialty shops in any city NOB. Besides a great selection of baked goods, they have a sizable selection of imports - cheeses, meats, beers & packaged food products. Also have a fairly nice selection of cooking utensils and other gadgets. [img]
[/img]
It is located on Ave. Mexico:
[img]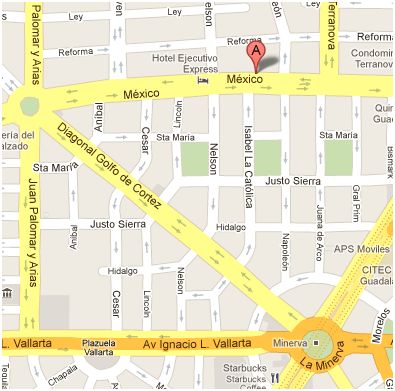 [/img]
Website:
http://www.goiti.com.mx/site2/portada.htm
Slideshow of interior:
https://picasaweb.google.com/118146709599975173363/GOITIGUADALAJARAMEXICO?authkey=Gv1sRgCIKy1anm7s2ruQE#slideshow/5780950544190602434
If you are not familiar with this option and are in the area, I would suggest a stop!

CheenaGringo

Share Holder





Posts

: 6692


Join date

: 2010-04-17



You forgot to mention that they also have a good selection of Big Daddy's Sausages. LOL
Withing a 5 block radius of Goiti, you also have some great other delis such as La Casita, La Cabana, Alidinos, Lolis and Bon Appetit.
Most of them carry all the products from NOB that you might be missing while living here.
If you thing some of the local stores are expensive here in Ajijic, just wait till you check out their prices. Much higher, but great selection.
Nice slideshow, a definite stop on our list. Thanks Neil.

E-raq

Share Holder





Posts

: 1998


Join date

: 2012-05-27




CheenaGringo

Share Holder





Posts

: 6692


Join date

: 2010-04-17



CheenaGringo wrote:Actually Big Daddy, last Thursday when we were in there, only Italian were spotted. It was intentional that I didn't mention pricing since I felt this was a specialty store that carried items often not found elsewhere:

[img]

[/img]
Thanks, we just talked with them and I guess we are soldout again. Going in Tuesday to restock.
The funny thing about the pricing is while doing a tasting one afternoon at Goiti, the people that were buying there did not seem to mind the prices. I think it is because the quality to so good.
Our sausages that sell for $75 here Lakeside, sell for $88 in Gaudalajara.
Wish we got the difference. LOL
---
Permissions in this forum:
You
cannot
reply to topics in this forum