Remember this guy?  The one on the right - (that's me on the left).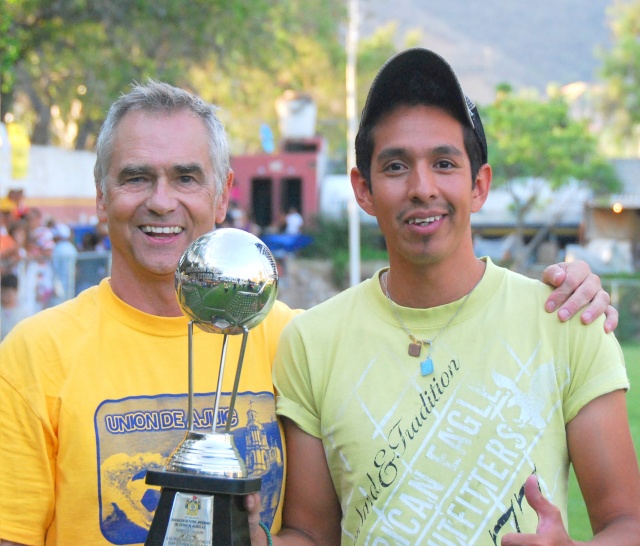 His name is Fidel and he is the brother of Moises (Bebe), the trainer of Inside Lakeside's Union Ajijic soccer team.  I hope you have had a chance to say hi to them at the games - though they are quite shy.  Bebe is vice-president of the football administrators (the patronato) and is the head trainer and thus gets a stipend for his work.  However Fidel, who worked at Hotel Real, would come by after work and help out with the training , just about every evening.  There was no money in it for him - just the joy of helping the kids.  Well, because of the low-season, there isn't sufficient work to keep him on the books and he was laid off from his $10MXN/hour general maintenance position.  He asked if I, or anyone I knew, needed work, either on a full-time or one-off job basis.  He has experience in general maintenance, some plumbing, electrical work, light construction - basically handyman stuff.  He also cleans out aljibes.  He speaks a little English.
I have known Fidel and his family for a year and a half and have absolute trust in them.  If you have anything you have been thinking about doing which possibly could benefit from a handyman I can unreservedly recommend Fidel.  Or anything on a regular basis - no matter how infrequent.  You can PM me and I can contact Fidel and set things up.
I wasn't sure whether this is the correct forum for this post - I checked with Zen...so if it is his fault if it is here inappropriately.  However calling Fidel 'one of our own' in the title was totally my doing and for some it may be a stretch, but because he has selflessly participated with InsideLakeside in the kids' soccer program. I stick by it.
Phil

TrueBrit

Share Holder





Posts

: 322


Join date

: 2013-05-19



Moises has worked for me in the past, and I have high regard for him. I will also vouch for the family. Don't know Fidel that personally but do know his brother. Anyone that knows me, knows that I do not hand out recommendations easily.

slainte39

Share Holder





Posts

: 9348


Join date

: 2010-07-22



I have known Fidel and Moises since they were 5 and 7.  I assisted Moises with his HS expenses and would have helped him through college but he didn't get in to the UdeG.  
 They are wonderful young men, and deserve a break.

 


LaChula

Share Holder





Posts

: 117


Join date

: 2010-06-29



Thanks for the endorsement, LaChula!

TrueBrit

Share Holder





Posts

: 322


Join date

: 2013-05-19



Thank you. I will pass on your message to keep his spirits up.

TrueBrit

Share Holder





Posts

: 322


Join date

: 2013-05-19



---
Permissions in this forum:
You
cannot
reply to topics in this forum