I took some guests to Tequila yesterday and discovered that a couple of the distilleries are no longer doing tours. Herradura (Amatitan) and Don Roberto no longer do tours. Probably best to call ahead if you want to visit something other than Jose Cuervo or Sauza. We ended up doing Jose Cuervo.
C-Bob,

Is that the one with the big barrel hotel rooms and the underground restaurant?

TIA,

Michael

MichaelB

Share Holder





Posts

: 93


Join date

: 2016-01-06



No, thats Tequila Cofradia.
To be clear, every one of the distilleries mentioned produce Engineered Tequila using questionable distillation methods and then doctored with additives to create taste! Some of these distilleries are the worst offenders for bastardizing the Industry. Of note 70÷% of all distilleries now fall into this category.

If you prefer the infamous Tequila Hangover, have at it but most who consume the certified Additive Free enjoy the experience without the negatives!

Rory2u

Share Holder





Posts

: 94


Join date

: 2021-10-07



Jose Cuervo apparently only uses additives in its bottom end Jose Cuervo Especial Gold and Silver. They talk all about this at their tour and even the guide recommends avoiding it....lol. I don't know about the others however this was about tours to see the process not which tequila is better than the rest.
Here's one for you.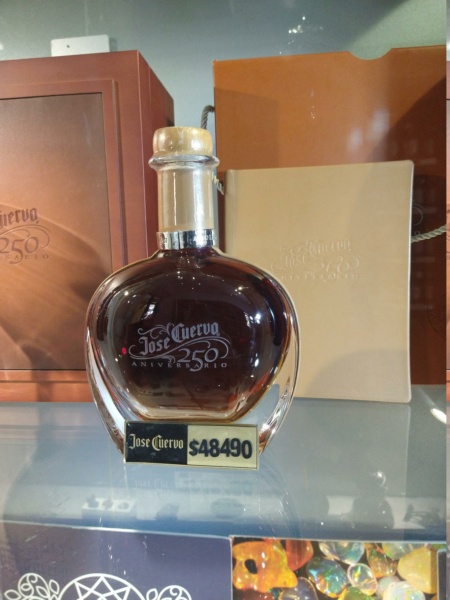 LOL. I remember going into a new restaurant in San Miguel de Allende and my hubby was asked if we wanted to tour their new Tequila Bar. We knew nothing about Tequila so went along. The host handed my hubby a bottle and waxed poetically about it. Hubby asked "how much?". Answer $7,000.00 U.S. dollars. My response? "Put it down...VERY carefully". This was around 1998.

ferret

Share Holder





Posts

: 9669


Join date

: 2010-05-23



Carry Bean and kiko like this post
Similar topics
---
Permissions in this forum:
You
cannot
reply to topics in this forum